"If I tried to skip the reading time, children asked for it."
-A teacher who started the daily reading program
Big Brother Mouse
Newsletter :: July 2014
(Above: Can you spot which child can't read yet?)
Good morning,
Last September we began measuring the impact of our new daily reading program ("Sustained Silent Reading", or SSR) in Lao schools. For all the money that is spent by NGOs and foreign government programs, ostensibly to improve health, education, and other things in less developed countries, always with programs that sound very good when they are announced, rarely does anyone really try to figure out if the money actually made any difference whatsoever. We wanted to be an exception.
We also took another step that is rare. Most studies are announced afterwards. If results don't look good, you'll never know the study even happened. Or you might hear just selected results. So we announced our plans in this newsletter, and published a detailed explanation of our methods and the tests.
Brief background
In September and October, we tested reading levels at 40 schools in 3 provinces. Then we randomly divided the schools into 3 groups:
Group A got our standard book party and children all got to choose a book of their own, then we left books in every classroom, and the teachers agreed to let children read a book of their choice for 10-15 minutes each day. Then they got extra attention: We held workshops in early January to give teachers more books and see how they were doing, and we did other followup.
Group B got the book party and reading program, but nothing else, we did not go back to these schools.
Group C didn't get any books or reading program at all. (Sorry!!! Now they'll get books.) It was the control group, to help us judge whether any improvements we saw in Groups A and B were likely to have been from having the books, or would probably have happened anyway.
Results
Briefly: For grades 3 to 5, reading abilities in Group A increased 26% more than in Group C. Group B, as expected, was in between.
That's a step in the right direction. At an average cost of about $4 per student, I don't know of any other technique that gets that type of result. The much-publicized "One Laptop Per Child" project about six years ago cost $200 per child just for the laptop, plus overhead, and was clearly a lot of fun and an ego-boost for the people who proposed it but with largely negligible impact.
But… 26% is not enough. It's far less than what is needed, and less than what we think is possible. (Imagine that your first child didn't learn to read until grade 4. Your next child can read by the end of grade 3. Are you happy now?)
In grades 1 and 2, the program made no measurable difference. Nor did we expect it to after we saw reading scores from these schools. Only 4% of the children entering second grade could even read a simple word. That's why we began creating our new "I Can Read!" series. Now we'll have books that help non-readers, too.
Our observations
We learned at the January workshop that many teachers hadn't fully implemented the program. They were reluctant to give up the teacher-and-blackboard system that they grew up with, and which they believed was the only real way to teach. With support from district officials, we encouraged them to start doing it, although by then the year was half-over.
If schools started the program immediately, they would have done it for an average of 7 months. That's the longest we can do in a single school year. Prof. Stephen Krashen has been a long-time advocate of SSR. He summarizes 54 studies of SSR in his book "Free Voluntary Reading." He found that SSR often needs a long-term program (which he defined as at least 7 months) to show results. So we were right on that cusp.
Krashen's work suggests that even where the program didn't produce measurable results, exposure to books seems to be laying the groundwork that will lead to bigger improvements in the long term.  That's good to keep in mind but we still believe, with improvements in the program, we can get some clearly-measurable results even in a 7-month period.
Krashen also found that SSR was most effective for children who had basic reading skills already, matching what we found.
Even in grades 3-5, a majority of children in these 40 schools can't read well enough to enjoy reading a simple story. Some have such weak reading skills that books wouldn't have helped them at all. We'll provide the "I Can Read" series for all grade levels, to help non-readers benefit from reading time.
What's next
The best news is that now we can show teachers that reading is not a "waste" of school time. Long-established habits and beliefs won't disappear immediately, but it should gradually become easier to get them to actually implement the program.
We'll also ask a district to allow a test in which more time is allowed for reading, perhaps as much as 30 minutes in the morning, and 30 minutes in the afternoon.
We will revisit schools more often. We expect to go to fewer schools in 2014-15, and spend more time monitoring to be sure it happens, and adjusting the program as we see what works best.
More detail
We've published a longer report with test data; please click here for Evaluation Report. (There's also a very detailed version, 30 pages, with more details about tests and our methods.)
Conclusion
The results we found show that the program is very worthwhile, but we'd like to see an even greater impact. With the improvements we're making, we expect next year's results to be notably better, for several reasons:
We know that implementation is a problem, and we've taken steps to improve it. We will get clear commitments from both the district and school to implement the program, and we'll monitor more closely.
Teachers will be more eager to offer SSR now that we can show that for grades 3 to 5, reading time will help students learn more.
We'll have the "I Can Read!" series which helps even students who cannot read yet.

"I Can Read!" books are off to press
The seven books that teach the alphabet, in our "I Can Read!" series, all went to press by mid-June. As Big Brother Mouse himself says: "Whew!" There was a lot of detail involved, and they consumed most of our attention for a six-month period. Thank you to those who sponsored one of them.
We're still working on the supplemental books. These are books that children can read for enjoyment, after finishing each book in the "I Can Read!" series, solidifying their knowledge of the letters they've learned up to that point before they learn more. We want children to quickly see that reading is fun, and interesting. That motivation will keep them moving forward.
Eventually we hope to have as many as a dozen books for each level. And we're going for variety. Phet found clip-art cartoons, and wrote humorous captions, to create a book for every level, even level 1, which is a challenge: Students know only 15 letters (of about 60 or 70 – counting letters is a fuzzier concept with the Lao alphabet than with English) at that point. Bob retold "The Rabbit and the Turtle" using simple words; the text will use a picture to replace some words that were essential but weren't simple enough, most notably "rabbit" and "turtle".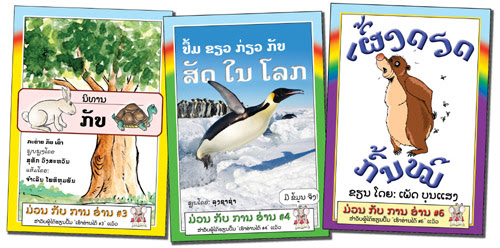 Nola used Dr. Seuss's "One Fish, Two Fish" as inspiration, then she wrote sentences in that style for levels 3, 4, and 5. I wrote interesting facts about selected animals, for another level 4 book. Longnee revised three photo books, that we had prepared for our series about ethnic minority children, to make them suitable for levels 4, 5, and 6. And there's more in the works.
We still need sponsors for the three books pictured above: The Rabbit and the Turtle, The Green Book about Animals of the World, and The Bees Sting the Bear. If reading has opened your world, please help it open new worlds for children here. We also have many other books that need a sponsor. Thank you!
A journey to Toad Hall
We're creating a generation of Lao readers. Not overnight, but we're moving in that direction. We've got enough for them to read this year, because they still read very slowly, but looking ahead, we'll need longer books.
We've published a number of Lao classical stories already, most recently the love story Sithon and Manola; and Champa and Champou about a friendship gone awry. We're also working on classics from the west. Last month I was checking the translation on Robin Hood. This month it's The Wind in the Willows, which I somehow missed while growing up and I've been delighted to finally meet its acquaintance. A young woman from Udom Xai province is attending Teacher Training College here. She likes to draw, and recently came by to see if we have any work. She's now busy drawing Toad and his friends, and doing a wonderful job; here's a sample.
Quiz answer:
 In the picture at the beginning of the newsletter, the boy on the left in the last photo is holding his book upside-down. Others probably cannot read, but have their books right-side up. After our testing last September, I no longer assume if I see a group of children "reading", that they really are reading. A lot gave up, but learned to play along.
With so little practice, it's rare that children can read without moving their lips, and perhaps whispering the words. So now, if I don't see their lips moving, I assume they're looking at the pictures.
But we're 26% ahead of a year ago, and with your help, we'll move forward even more in the year ahead. Thank you!
With best wishes from all of us in Laos,
Sasha
for Big Brother Mouse
---
Forward this!
Please forward this newsletter to friends who might be interested.
To subscribe: If you got this directly from Big Brother Mouse, you're already on our list. If not, you can sign up on the home page of our website. We send newsletters 6-8 times a year and do not give your email to anyone